http://www.aljazeera.com/news/asia/2012/03/201232655043900336.html
Pakistan parliament debates US ties
Legislators to decide whether to allow NATO supply routes via Pakistan even as Taliban warns against its resumption.
Last Modified:

26 Mar 2012 11:13
There have been nation-wide protests against the US drone attacks in tribal regions of Pakistan [Reuters]
Pakistani legislators have resumed debate on revising the rules of relationship with the US, about four months after 24 of its soldiers were killed in an American air raid along the Afghan border.
Monday's session of parliamentarians would consider whether to allow NATO supply routes via Pakistan, which have been blocked since the deadly attacks in November.
A Pakistani parliamentary commission tasked with proposing new guidelines for the relationship between the two countries last week demanded an end to American drone attacks and an apology for the airstrikes that killed the Pakistani troops.
The commission also recommended that the Pakistani government charge NATO more for shipments through the country if they are allowed to resume.
Washington has expressed regret for the border incident, but avoided a formal apology.
On Saturday, the US military said it was not planning to discipline any of its forces over the incident.
A US military investigation last year had already exonerated American troops operating in Afghanistan from inappropriate use of force against the Pakistani forces – even as the US military acknowledged some of the blame in the incident.
Al Jazeera's Imtiaz Tyab, reporting from Islamabad, said: "What we are seeing today is the end of four months of investigations by senior Pakistan Parliamentarians, senior members of military and indeed intelligence agencies."
"A four-month review of this complex relationship with the US," he said.
Tyab said: "Last week they submitted to both Houses of Parliament 40 key points that they wanted Parliament to debate."
"Some of the key points included tariffs on NATO transitory routes and end of US drone attacks."
Taliban warning
Monday's meeting comes amid fresh warning from Taliban, who threatened to attack Pakistani politicians and their families if they allowed NATO to resume shipping supplies through the country to troops in neighbouring Afghanistan.
Ahsanullah Ahsan, Pakistani Taliban spokesman, accused Pakistani officials of acting like slaves for the US and said allowing NATO supplies to resume would be "shameful and unacceptable".
"These parliamentarians must know that in such case, none of them will be safe in their homes,'' Ahsan told The Associated Press news agency.
Leaders of political parties and religious groups hold an anti-US rally in the port city of Karachi [EPA]
"We will start attacking all the parliamentarians and their families.''
Ahsan also said his fighters would "publicly slaughter'' drivers ferrying NATO supplies.
The US is eager to get the supplies moving again because it has had to spend much more money shipping goods by an alternative route that runs through Central Asia.
The supply line through Pakistan will also be key to trucking out equipment as the US seeks to withdraw most of its combat forces from Afghanistan by the end of 2014.
Pakistan would also benefit from patching up relations because it needs US assistance to help keep its struggling economy afloat.
The US has given Pakistan billions of dollars in aid since 2001 to enlist its support in fighting Islamist fighters, but the relationship has been plagued by mistrust.

http://www.guardian.co.uk/world/2012/mar/26/afghan-kills-two-nato-troops-base
Afghan kills two troops at Nato base
Gunman in army uniform shot dead after opening fire at Lashkar Gah base in Helmand province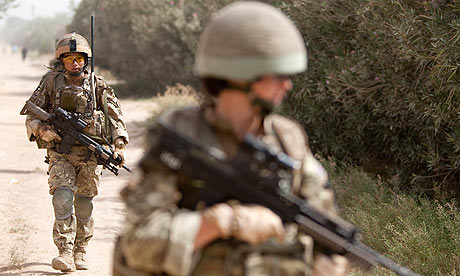 A man in an Afghan army uniform has shot and killed two soldiers at a
Nato
base in southern
Afghanistan
, Nato officials have said.
In a statement, Nato said an individual wearing an Afghan uniform turned his weapon against international troops. Coalition forces returned fire.
"The gunman was shot and killed," Major Jason Waggoner, a Nato spokesman, said. A western official in southern Afghanistan confirmed the incident took place at the main Nato base in Lashkar Gah, Helmand province.
"The gunman was shot and killed," Major Jason Waggoner, a Nato spokesman, said. A western official in southern Afghanistan confirmed the incident took place at the main Nato base in Lashkar Gah, Helmand province.
The attack appeared to be the latest in a string of so-called green-on-blue attacks in which Afghan security forces have turned on their international colleagues or mentors. Such attacks have become increasingly common over the past year.
There have also been incidents in which insurgents have worn Afghan uniforms to launch attacks.
Tensions between the US and Afghanistan have been particularly strained following the burning of copies of the Qur'an at a US base in February. That act –
which US officials have acknowledged was a mistake
– sparked riots and attacks that killed more than 30 people, including six US soldiers.
The Lashkar Gah base is dominated by British forces. The Ministry of Defence said it was aware of the incident, but refused to release further details or confirm whether the soldiers were British.