http://fukushima-diary.com/2012/04/melted-reactor-4/
A Fukushima citizen living in 30km area published the book about his experience after 311.
In his book (P43), he refers to a nuclear worker who watched reactor 4 being destroyed.
Though explosion of reactor 4 was not reported, it is significantly destroyed.
『4号機は一番ミステリアスで、特に大きな爆発音もなかったのに、見ている前で建屋の外壁が映画のSFXのモーフィングのようにみるみる変形し、結果的には側面がぐちゃぐちゃに壊れたという』
<Translate>
Reactor 4 is the most mysterious case. There was no major blasting sound, but the walls of the reactor building were deformed like morphing of SFX in front of our eyes, the walls of lateral side went totally messed up after all.
<End>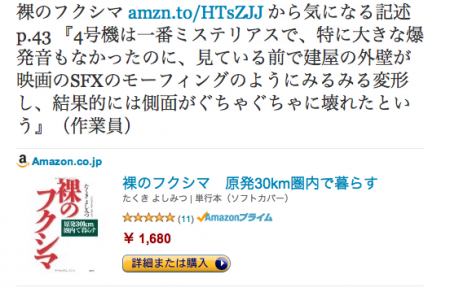 and.....
Tepco concealed another contaminated water leakage
Actual Fukushima worker Happy11311 tweeted Tepco concealed another contaminated water leakage and other important facts.
<Translate>
Tepco and the government state they safely prepare back-up units for coolant system, nitrogen injection system and water purifying system but even the back-up systems don't work sometimes.. anyway, last week, contaminated water leaked at a point but they haven't announced it even though I looked for the information around..
<End>
Assurances Friday by Prime Minister Yoshihiko Noda and key ministers that two idled reactors are safe to restart has drawn fire from the public that the government is moving way too quickly to bring atomic power plants back online [...]

The safety declaration for the two reactors at Kansai Electric Power Co.'s power plant in the town of Oi in Fukui Prefecture was issued after Noda and three ministers scrambled to cobble together extra safety standards for the reactors in just three days. The quartet then simply announced the reactors had cleared the new criteria just a week later — on the same day that a suspected North Korean missile was launched.

That sequence of events has raised skepticism that the Noda administration may be rushing to fire up Oi's reactors by May 5, when the only reactor still up and running will be closed for a mandatory checkup. [...]

[...] some observers doubt whether the power supply will really be in danger without nuclear power. They also doubt that all possible power conservation measures have even been taken yet. [...]
Masashi Goto, former nuclear power plant engineer and member of a panel that is advising the nuclear safety agency on reactor stress tests
[He said angrily] "I can't help but feel that they are moving toward a conclusion that has already been set"
"Is it OK to put off safety measures on nuclear power? Earthquakes and tsunami will not wait for us"
Niigata Gov. Hirohiko Izumida
[He] criticized the decision as presumptuous, given the fact that the hazardous events that transpired at the Fukushima No. 1 power plant disaster haven't even been verified yet
"I have serious concerns that they are taking steps toward the reactivation in a quick manner"
Trade minister Yukio Edano
[He] admitted at a press conference after announcing the decision to seek the restart of Oi's reactors that the public has lost faith in Japan's gung-ho nuclear policy since the Fukushima crisis
"After an accident that was not supposed to occur happened on March 11 last year, I do not think citizens will trust the government so easily [...] Knowing
that, we have to do our best to win people's understanding"