http://www.zerohedge.com/news/spain-cds-surges-just-shy-record-spanish-bank-ecb-borrowings-go-parabolic
Spain CDS Surges Just Shy Of Record As Spanish Bank ECB Borrowings Go Parabolic
Submitted by Tyler Durden on 04/13/2012 06:52 -0400
On Easter Friday
we presented
the parabolic egg that Italy laid in March in the form of Italian bank borrowings from the ECB, which had surged by a record €75 billion to €270 billion from €195 in one month. Of course, since the US market was closed and everyone was preoccupied with the ugly NFP report, nobody paid much attention. Today, however, everyone is paying attention as Italy's counterpart in the unsalvageable periphery - Spain, just posted its monthly consolidated Eurosystem borrowings
update
for March. And if last week's Italian data was the Easter egg, today's parabola is the Friday the 13th funny, because Spain bank borrowings from the ECB in March soared by... €75 billion, or precisely the same amount as Italy, to €227.6 billion, the highest ever, and a 50% increase over the €152 billion in February. The result: Spain CDS touching 491 bps according to CMA, just 2 bps shy of the November all time wides. Other securities impacted: 10 Year Spanish yield + 10 bps to 5.92%, and a spread over bunds now well into the 400 bps, or 418 bps to be precise. Italy is also catching the contagious bug, with its own 10 year starting to grind wider yet again, now at 5.47%. We have the feeling as more wake up this morning, that this latest glaring confirmation that the PIIGS banks now exist solely courtesy of the ECB, will not be liked by many.
Spain bank borrowings from ECB:
And Spain and Italy bank borrowings from ECB:
and from The Guardian liveblog....
The governor of the Bank of France, Christian Noyer, says there is no reason why France should became a target for the markets after election. But he adds that the government's insistence on reducing debt after the election will be important for the markets.

His comments come as polls put Socialist candidate Francois Hollande ahead of president Nicolas Sarkozy, just over a week before the first round of voting.
Hollande has raised eyebrows across Europe after his criticism of the fiscal compact. If elected, he says, he will open talks to amend the compact so it include commitments to growth as well as austerity.
Of 22 economists it polled this week, 17 predicted the ECB will be forced to resume bond-buying under the Securities Markets Program, while only one forecast another round of unlimited three-year loans. Nine said the central bank may consider shorter maturity loans of one or two years.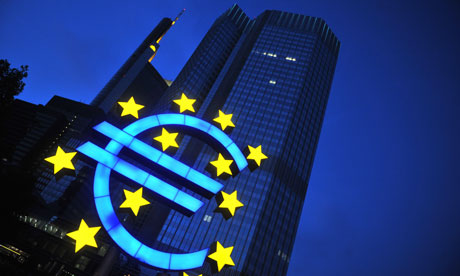 Ken Wattret, chief euro-area economist at BNP Paribas said:
Market stresses will eventually force the ECB to restart the bond program, but it's not imminent.

Another look at the markets now there's a bit more movement. Apologies for any over-egging earlier in the day.

Italian banks are now down by 3.52%, with suggestions that Moody's may downgrade them after markets close tonight. The Italian index is down 2%.

The eurozone index, the Euro Stoxx 50, has also turned negative on the year, and is down 1.5% this morning.

Spanish IBEX: down 2.6%
Italy's FTSE MIB: down 2%
FTSE 100: down 0.6% at 5677
German DAX: down 1.2%
French CAC: down 1.2%

In the debt markets, rumours are circulating that the ECB may be buying Spanish bonds. Spanish bond yields, however, continue to rise. And Belgium has cancelled today's bond auction.

Over to the debt markets, where Spanish bond yields are pushing towards 6% again, up 11bp at 5.92%.

Italian industrial production kept falling in February, highlighting the difficulties thrown up by spending cuts.

Italian industrial output was weaker than expected in February, falling 0.7%, compared with forecasts of a 0.2% drop. Figures for January were revised down from -2.5% to -2.6%.

Industrial production has fallen 6.8% over the year, compared with forecasts of a decline of 5.1%. As the chart shows, it's been a pretty clear indicator of Italian GDP in the past.

We've got some analyst reaction to the surge in Spanish banks' ECB borrowings to a record high in March. Martin van Vliet of ING says:

The increase in the overall borrowing figure was primarily driven by a surge in the use of LTROs (from €152.3bn to €315.3bn). This confirms our suspicion that the second 3-year LTRO that settled on 1 March was dominated by Spanish banks. Specifically we estimate that banks in Spain took up more than one third of the total.

Most of the LTRO money is being used to refinance maturing bank debt, but a decent chunk of it has and will be used to fund the Spanish sovereign. While this has helped reduce funding pressures on the Spanish government, it has reinforced the link between Spanish banks and their sovereign.

Funding liquidity is one thing, solvency is another: the ECB's 3-year LTROs have done little to fundamentally improve the solvency situation of either the banking sector or the sovereign, which is where recent investor concern has centered on. For this to happen, we would likely need to see a sustained return to economic growth and an imminent end to the real estate slump, both of which currently seem a long way off.

Spanish banks borrowed €316.3bn from the ECB in March compared with €169.8bn in February.

There's more noises out of the European Central Bank that it wants to scale back its measures to address the eurozone crisis.

German board member of the bank Jorg Asmussen says the ECB has done its part in fighting the crisis, and it is now up to governments to do their part. He says the LTRO didn't solve problems, but it bought time and alleviated deleveraging pressures. Non-standard measures are temporary and exceptional by nature, he adds. (That includes the bond buying programme, which the markets are hoping will be reactivated, after Benoit Coere said earlier in the week that it is still a policy option).

Asmussen says the ECB will act when needed, adding that he sees signs of stabilisation in sovereign debt markets though it is still a fragile environment.


He says the short-term negative impact of fiscal consolidation on growth is offset by confidence effects. (The Greeks may disagree). And the fiscal compact is the first step and right step towards fiscal union, but the region will need further steps.

Europeans have done their part, he says, alluding to the decision on the eurozone firewall, now non-European partners should contribute to IMF resources. (That may meet with some resistance.)



With the first round of the presidential elections little more than a week away, Sarkozy faces a tough fight against French Socialist presidential candidate Francois Hollande. Some polls suggest Sarkozy would beat Hollande in the first round on April 22, but would still lose in a likely second-round on May 6.

French president Nicolas Sarkozy said Britain is in "a far worse economic situation than France", in a televised debate last night.

During the debate, Sarkozy took aim at the Financial Times, accusing it of blindly supporting the "Anglo-Saxon model" of economics. He said:

They don't agree with me, which I really rejoice in that, you know, because I don't agree with them. The FT, as they say in informed circles, has always defended the Anglo-Saxon model, considering the French incorrigible and that we would do better to align ourselves to the Anglo-Saxon model.

The FT explains to us that it is necessary to act exactly like Britain, which is in a far worse economic situation than France.

Separately, it emerged that Sarkozy had falsely bragged during an election rally that he had visited the Fukushima nuclear plant after last year's Japanese earthquake. He didn't, in fact, leave Tokyo on his visit to Japan.

A poll, carried out by CSA on April 10 and 11, showed both leading candidates lost ground since a comparable poll a week ago. Hollande lost two percentage points to 27% and is now ahead of Sarkozy, who lost four percentage points to 26%.