Boko Haram Likely in Possession of Some of the Arms
by Jason Ditz, April 11, 2012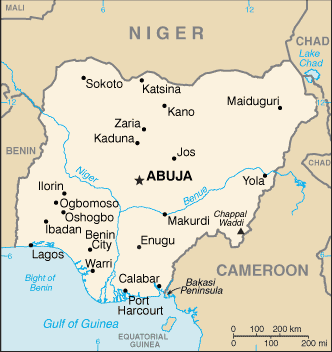 Obada's comments confirmed several previous reports to that effect, which said that Boko Haram was acquiring a number of weapons, including surface-to-air missiles, that are being sold by weapons looters.
It is a story that is liable to be repeated many times across the region, as the sheer enormity of the number of missiles is going to mean they'll be on the black market for years to come across the entire region. Reports have already traced the missiles as far east as Sinai.
and,,,
Gunmen attack towns in northern Nigeria
Six-year-old girl and three others killed in country's restive northeast one day after suspected Boko Haram bombings.
Last Modified:

10 Apr 2012 03:42
Yvonne Ndege reports on the Easter Sunday suicide bombing in Kaduna that killed dozens of people
Gunmen in Nigeria have killed at least four people, including a six-year-old girl, in separate attacks in towns in the country's northeast.
The attacks on Monday, suspected to be linked to the radical group Boko Haram, are the most recent in a series of incidents in Nigeria's restive northeastern region.


The violence comes a day after two other explosions caused massive damage in the towns of Kaduna and Jos on Easter Sunday.
In the northeastern city of Potiskum on Monday, gunmen opened fire on a policeman and his family, killing the officer's six-year-old daughter, said Toyin Gbadegeshin, the Yobe State police spokesman.
In a separate attack earlier on Monday, gunmen killed a local politician, police officer and civilian in the border town of Dikwa in the northeast, Lieutenant Colonel Sagir Musa said.
The attackers had targeted a police station, a bank and a hotel but were quickly repelled by army troops, Musa told the AFP news agency.
"Three Boko Haram terrorists were killed and many escaped with bullet wounds," Musa said, adding that "normalcy has been restored and the situation is now under control".
Gbadegeshin, the Yobe state spokesman, also blamed Boko Haram for the attack in Potiskum.
The group has been waging an increasingly bloody fight with security agencies and the public.
The wave of recent attacks has targeted the security services, other symbols of authority and Christians.
Monday's attacks follow an Easter Sunday suicide bombing in the city of Kaduna, that attack killed at least 36 people, and a second explosion in the central town of Jos that caused a number of injuries.
Suspicions also fell on Boko Haram for those attacks. The group has set off a series of bombs across Nigeria including one on Christmas Day last year.
More than 380 people have been killed in violence blamed on Boko Haram this year alone, according to an Associated Press count.