http://www.guardian.co.uk/business/2012/mar/29/eurozone-crisis-spanish-general-strike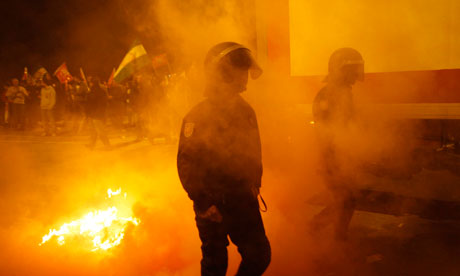 Spain's transport network has been badly hit by today's strike.
Ahead of today's action, transport employees had agreed to offer a minimum level of service. That meant that around 25% of buses and a third of train services were expected to operate.
8.36am
, we won't know the full story for some time).
The two main unions, Comisiones Obreras and UGT, have announced that the general strike had "practically paralysed" factories during the night shift. They also claimed that 85% of workers in the food sector were also taking part (but, as we reported at
And here's a less peaceful photo, showing a man bleeding while taking part in this morning's protests in Madrid.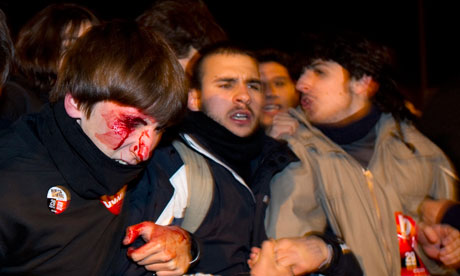 According to the photographer who took the photo, the man had been hit in the face by police.
Back to Spain, and there have been peaceful protests this morning outside the Gregorio Maranon Hospital in Madrid.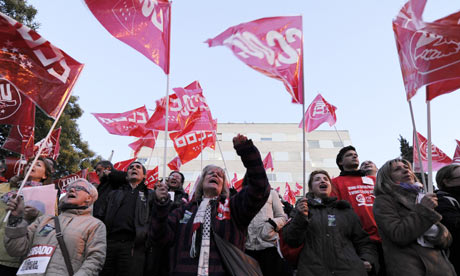 Giles Tremlett, our correspondent in Madrid, tells me that it is impossible to say at this stage how 'successful' the Spanish general strike is. But two key indicators suggest there is more support than at a similar event 18 months ago.
Giles writes:

The first is that electricity consumption is down by more than 20% – proof that things are slowing down around the country.

The other is that unions say more people have stopped work this morning than in September 2010, when the socialist administration of José Luis Rodríguez Zapatero had to cope with a similar strike.

Zapatero himself considered that strike a crucial moment in the dramatic fall in popular support for his socialists, who were ousted at a general election a year later.

Given that regional elections in southern Andalucia at the weekend saw a fall in votes for current prime minister Mariano Rajoy's conservative People's party (PP), it is safe to say that we have reached a turning point in support for the government as it celebrates 100 days in power.

Tomorrow's budget, expected to be one of the fiercest seen in austerity Europe, will mark the end of his toughest week in power.
El Pais
also reports that Esperanza Aguirre, Spain minister for education and culture, has denounced attempts on social networks to create public disorder today [a comment which reminds us of
last summer's riots in the UK
]
Update: we're still trying to get a full report of Aguirre's comments...
El Pais, there have been 58 arrests so far in Spain, with seven policeman injured (my colleague James Gard reports).
According to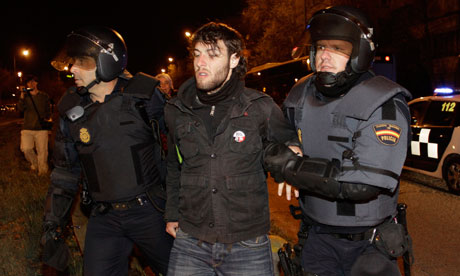 Electricity demand is reportedly down a quarter on a normal working day. Nissan and Seat car factories in Catalonia are locked down. Student protestors have blocked one of the main roads into Madrid, the A6, causing a big traffic jam (click on the link below to see).

Mariano Rajoy announces a new austerity budget.

The Spanish general strike comes just a day before prime minister

Rajoy has also angered labour groups by introducing new legislation that makes it easier for companies to lay people off, cut wages and modify other employment conditions. This has led unions to predict enthusiastic support for today's action.

Ignacio Fernandez Toxo, head of the CCOO union, declared:
The people will say whether they are resigned to accepting the reforms.
Finance minister Cristobal Montoro, though, insists the Spanish government will not be forced into changing its plans. Montoro said:
The question here is not whether the strike is honoured by many or few but rather whether we get out of the crisis.
Valencia (as in Malaga, see 7.56am) strikers also blocked the entrance to the main wholesale market (called Mercavalencia).

And in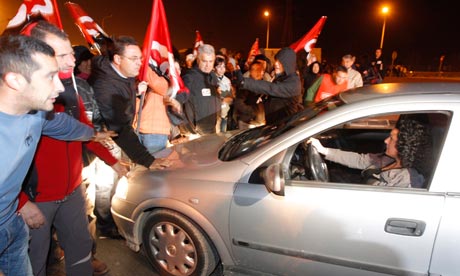 According to local reports, hundreds of members of the UGC, CCOO and CGT labor unions, blocked the entrance, and managed to prevent trucks entering the site.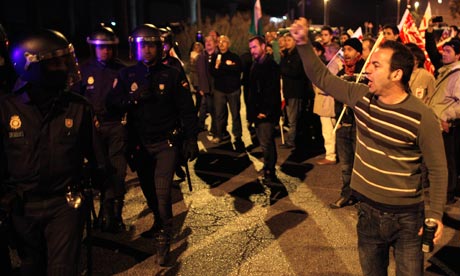 Malaga, union members picketed outside the entrance to the city's main food warehouse, called "MercaMalaga".
In
Madrid's urban bus depot:
Here's another picture from outside