http://www.aljazeera.com/news/middleeast/2012/03/2012325102353721814.html
Annan mission 'last chance' for Syria
Russian warning comes as US pledges to send "non-lethal" aid to the rebels in the most overt show of support yet.
Last Modified:

25 Mar 2012 15:48
Russian President Dmitry Medvedev has warned that Kofi Annan represented the last chance for avoiding a civil war in
Syria and offered the UN-Arab League envoy Moscow's full support.
"This may be the last chance for Syria to avoid a protracted and bloody civil war," Russian agencies quoted Medvedev as telling Annan at a meeting on Sunday, adding that Russia would provide "full support at any level" for his mission.
At the meeting, Foreign Minister Sergei Lavrov "underscored the need to end violence from all sides and establish a broad Syrian political dialogue. ... He called on the special envoy to work actively toward that aim with both the authorities and the opposition," a statement said.

Lavrov also said that to support Anna's mission, nations must refrain from interfering in Syria affairs or taking sides in the confrontation between the government and opponents.
The Russian warning came as US President Barack Obama pledged to send "non-lethal" aid to the Syrian rebels in the most overt show of US support for the rebels to date.
The decision seems certain to irritate Russia following its fierce condemnation of the West's calls on President Bashar al-Assad to step down.
Obama said at talks with Turkish Prime Minister Recep Tayyip Erdogan ahead of a nuclear security summit in Seoul that they agreed "there should be a process" of transition to a "legitimate government" in Syria.
A top US national security official said the delivery of medical aid and other urgent supplies would top the agenda of a "Friends of Syria" meeting scheduled for April 1 in Istanbul.
Both Russia and China have used their veto rights as permanent members of the UN Security Council to block efforts to condemn Assad.
Annan, the former UN chief, will be carrying with him Assad's answer to a peace plan under which Syria could begin a "political transition" to a representative government, with no specifically defined role for Assad.
The initiative calls for Assad to withdraw troops and heavy weapons from protest hubs, a daily two-hour humanitarian ceasefire, access to all areas affected by the fighting and a UN-supervised halt to all clashes.
Homs targeted
Blasts meanwhile once again rocked Syria's flashpoint city of Homs as the regime pressed on with its assault on protest hubs while the rebels countered by attacking a military base in Damascus province.
Opposition activists said at least 21 people were killed in several districts in Syria on Sunday morning.
Activists in Homs reported heavy shelling of al-Khaldiyeh, al-Hamidiyeh and other old neighbourhoods in the city in an attempt by the government to regain control of pockets of armed resistance.
A large number of al-Qusair residents in Homs reportedly fled their homes into neighbouring villages after their town was heavily bombarded by artillery fire.
In the southern town of Nawa, the Local Co-ordination Committees (LCC) activist network said "tanks have entered the main streets, and heavy gunfire by regime forces is reported".
Nawa is in Deraa province, where the popular uprising against President Bashar al-Assad's rule erupted in March 2011.
Elsewhere in the country on Sunday, near the northern border with Turkey, rockets were fired into the town of Aazaz as helicopters flew overhead, according to activists.
LCC said opposition fighters of the Free Syrian Army blocked a highway used by the military for reinforcements and supplies to Aazaz, which has been the scene of fierce clashes for the past few weeks.
The state news agency SANA said an "armed terrorist group" attacked a gas pipeline in the eastern province of Deir ez-Zor. Several such attacks have caused explosions in Deir ez-Zor and Homs provinces.
At least eight people were reportedly killed across Syria on Sunday, activist said.
'Human shield'
Human Rights Watch (HRW) said government forces in Idlib had resorted to using civilians as human shields to protect themselves from attacks by opposition fighters.
Citing witnesses and YouTube videos, the US-based rights group accused the army and pro-government militia known as shabiha of forcing people to march in front of them as they advanced on opposition-controlled towns in the province.
"By using civilians as human shields, the Syrian army is showing blatant disregard for their safety," Ole Solvang, HRW emergencies researcher, said in a statement.
"The Syrian army should immediately stop this abhorrent practice."
The tactic had reportedly been used in the towns of Al-Janudyah, Kafr Nabl, Kafr Ruma and Ayn Laruz.

http://www.infowars.com/in-high-gear-advanced-preparations-of-u-s-israel-war-against-iran/
Ben Schreiner
Infowars.com
March 25, 2012
Following the highly scrutinized meeting between President Barack Obama and Prime Minister Benjamin Netanyahu earlier this month in Washington, consensus held that Obama had managed to secure assurances from the war-hungry Netanyahu that Israel would delay a military strike against Iran till 2013. That is, till after the November U.S. presidential election.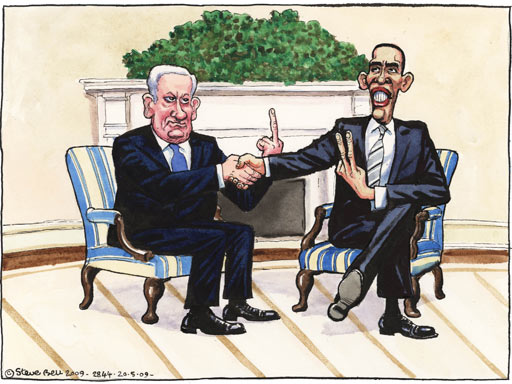 According to the Israeli dailyMaariv, this commitment of Israeli "restraint" had been bought with the sale of U.S. "advanced bunker-busting bombs and long-range refueling planes" to the Israeli Defense Forces, as al-Akhbar (3/8) reported. Needless to say, such advanced weaponry would be required in any Israeli attack on Iran.
"You shall still have your war," Obama thus seemingly sought to convey to Netanyahu, "but only in due time."
Since the Obama-Netanyahu summit, however, indications of such Israeli restraint have dissipated. The Israeli dogs of war are not so easily tamed. In fact, in his latest column forBloomberg (3/19), the Atlantic's Jeffrey Goldberg reports that talk of striking Iran is once more convulsing through the Israeli political establishment. And according to Goldberg, all such discussions have assumed a rather optimistic bent.
"One conclusion key officials have reached," Goldberg writes, "is that a strike on six or eight Iranian facilities will not lead, as is generally assumed, to all-out war."
We learn further that Israeli officials interpret Obama's claims of "having Israel's back" as meaning that even in the event of an Israeli strike against Iran in the face of U.S. protest, "Obama would move immediately to help buttress Israel's defenses against an Iranian counterstrike."
All this leaves Goldberg to assess that Israel shall ultimately strike Iran. As he writes, "I'm highly confident that Netanyahu isn't bluffing—that he is in fact counting down to the day when he will authorize a strike against a half-dozen or more Iranian nuclear sites."
This unnerving assessment mirrors that held by another favored media conduit for Israeli propaganda, Ronen Bergman, who after similarly speaking with senior Israeli leaders earlier this year, concluded in the New York Times Magazine (1/25) that, "Israel will indeed strike Iran in 2012."
Notably, Goldberg's Bloomberg piece appeared the very day the New York Times (3/19) reported on a secret U.S. war game held earlier this month. The war game reportedly simulated an Israeli strike on Iranian nuclear facilities. And as the Times reported, the exercise "forecasts that the strike would lead to a wider regional war, which could draw in the United States and leave hundreds of Americans dead."
(The report did not specify to any detail on the expected regional war unleashed by an Israeli strike. Nor did the paper mention any projection of potential Iranian casualties. But why would they? After all, as U.S. Gen. Tommy Franks averred back in 2002: "We don't do body counts.")
And of course, where there is smoke, there is fire.
Indeed, for the Times ominously noted that a similar exercise took place back in December 2002—at the time simulating a potential invasion of Iraq. And mere months later, as Peter Symonds, writing at the World Socialist Web Site (3/21), reminds us, "US President George Bush unleashed the illegal US-led war of aggression that cost the lives of hundreds of thousands of Iraqi civilians and devastated much of the country."
Hence amid its war gaming, the Pentagon continues to accelerate its naval build-up in the Persian Gulf, according to the Los Angeles Times (3/17) and other outlets. The Times writes:
The Navy will add four more mine-sweeping ships and four more CH-53 Sea Stallion helicopters with mine-detection capability. The Navy is also sending more underwater unmanned mine-neutralization units to the region.