http://www.chinadaily.com.cn/cndy/2012-04/10/content_15008918.htm
First-quarter home prices down 20.7% in capital
Updated: 2012-04-10 08:00
By Hu Yuanyuan (China Daily)
| | | | | | | | | |
| --- | --- | --- | --- | --- | --- | --- | --- | --- |
| | | Print | | Mail | | Large Medium Small | | 2 |
Prices of new homes in Beijing fell 20.7 percent year-on-year in the first quarter, as propertydevelopers offered more discounts to stimulate sales with tightening policies set to continue.
The average price of new homes in Beijing was 12,326 yuan ($1,956) per square meter as ofend-March, compared with 13,173 yuan at the end of last year and 14,147 yuan at thebeginning of 2011, the Beijing Real Estate Association said on Sunday.
According to Chen Zhiwu, secretary-general of the association, 16,000 new apartments weresold during the first quarter, with 90 percent of buyers being first-home purchasers.
Apartment sales (excluding subsidized units) fell 14.2 percent year-on-year in the first quarter,reaching the lowest level since 2007, Chen added.
But as developers offer more attractive discounts, potential buyers' interest has grown.
During the just-concluded four-day Beijing Spring Real Estate Expo, an event that is oftenregarded as a barometer of the capital's real estate sector, developers offered all kinds offavorable terms.
Most discounts ranged from 2 to 6 percent, with some as high as 8 percent.
According to Zheng Xiangdong, head of Beijing JiaHua Four Seasons International ExhibitionCo Ltd, the organizer of the expo, 145,800 people visited the expo, compared with 13,072visitors to the Autumn Real Estate Expo last year.
About 80 percent of the visitors showed an interest in apartments, with the rest consideringvillas, office buildings and commercial properties.
As for potential buyers, about 30 percent would buy an apartment with a floor space of lessthan 90 sq m, while 50 percent preferred a home ranging from 90 sq m to 140 sq m.
The figures indicate that owner-occupiers, including first-time buyers and those who aretrading up, now dominate the market, said Zheng.
For Zhang Dawei, marketing director of Centaline Group in Beijing, April is a traditional hotseason for property sales, so the transaction volume is likely to pick up this month.
"But as the market is still quite price-sensitive, and as restrictions on home purchases remainin effect, we are not likely to see a rebound in both sales and prices," Zhang said. "This monthmay be a good opportunity for potential home buyers."
According to Qin Lihong, executive director of real estate company Longfor Group, the windowof opportunity for property developers will not last long.
"As property sales pick up, the price is also likely to increase and that may trigger moretightening policies," Qin said.
and....
http://www.chinadaily.com.cn/cndy/2012-04/10/content_15008954.htm
'Time for closer ties' with India
Updated: 2012-04-10 08:00
By Lan Lan in Boao, Hainan (China Daily)
| | | | | | | | | |
| --- | --- | --- | --- | --- | --- | --- | --- | --- |
| | | Print | | Mail | | Large Medium Small | | 0 |
Emerging economies 'hold key' to global growth over next 20 years
A senior Indian planning official has called for closer economic cooperation between India andChina for mutual benefit over the next 20 years.
Montek Singh Ahluwalia, vice-chairman of India's planning commission, said emergingeconomies are now the world's engine.
"Traditionally, probably both of us have seen industrialized countries as the world's growthpools and looked at how to deepen relations with the industrialized world," Ahluwalia told ChinaDaily on the sidelines of the Boao Forum for Asia Annual Conference 2012.
Over the next 20 years, industrialized nations "will be very important sources of technology"but GDP growth will almost certainly come from emerging markets like China and India, hesaid.
Amid global economic uncertainty, emerging countries have more growth capacity, he said.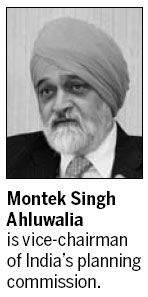 Ahluwalia was the first director of the independent evaluation office atthe International Monetary Fund. He also co-chaired the first India-China Strategic Economic Dialogue last year, a significant platform forbilateral ties as both countries previously only had such mechanismswith the United States.
Zhang Ping, minister of the National Development and ReformCommission, led China's delegation.
Given the world economic outlook for the next three to five years, it'snot surprising that China and India will grow more slowly, Ahluwaliasaid. But the actual expansion rates don't matter so much as that bothcountries contribute to world growth.
"China is ahead of India in many dimensions. We look at what'shappening in China with interest because we have many similarproblems," he said.
The two countries' economies are also often complementary. India isundertaking a large expansion of its electricity generation sector and importing muchequipment from China, he noted.
Similarly, China is a huge market for India's flourishing software industry. Most of India's majorsoftware producers already have subsidiaries in China, serving multinational and Chinesecompanies.
Ahluwalia said he asked the chairman of the Tata Consultancy Services, a leading Indiasoftware exporter, to send him a note comparing projects and economic conditions in Chinaand India.
"China is a higher income country than India," he said, and maybe what China is doing now,India will be doing in five years.
Energy efficiency is another area for sharing knowledge and technology, he noted, as bothcountries need to reduce energy intensity (energy consumption per unit of GDP).
"We are both increasingly market-led economies (so) we cannot say we want to engage withChina in a particular area," he said. Instead, it's important to look at the Indian and Chinesemarkets to see what's needed, he added.
Bilateral trade rose 19.7 percent last year to $73.9 billion, according to the GeneralAdministration of Customs. The two countries have set a $100 billion bilateral trade target by2015.
"Nobody would have predicted 10 years ago trade with China would be it is now. It is a bignumber by Indian standards," Ahluwalia said.
If China will be the world's largest economy in 20 years, "it makes sense for Indianbusinesspeople to look at the Chinese market". In 20 years, India will likely be the world's third-largest economy, so it also makes sense for China to look at the Indian market.
Ahluwalia said China has signaled further opening - for example, in internationalization of theyuan. That will make China a more predictable partner for long-term planning.