http://www.guardian.co.uk/world/2012/apr/10/syria-ceasefire-fighting-continues-deadline-passes
Syria ceasefire: fighting continues as deadline passes
Residents in Homs and Hama report shelling and tanks on streets as tensions grow over shooting at a Turkish refugee camp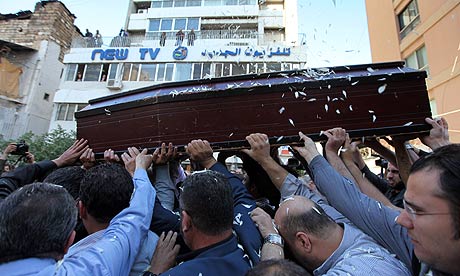 A UN-imposed deadline for a ceasefire in
Syria
has passed with government forces again shelling the central city of Homs, with no sign of an end to the crackdown that has killed an estimated 9,000 people over the past 13 months.
Ahmet Davutoglu, in China with the Turkish prime minister, Recep Tayyip Erdogan, will return home to co-ordinate the response to Monday's incident near the town of Kilis in Turkey's south-western Gaziantep province. A Turkish foreign ministry official said at least five people were injured, including two Turkish nationals. Speaking to reporters in Bejing Tuesday, Erdogan said his country was considering its response, including measures "we don't want to think about".
Russia's foreign minister, Sergei Lavrov, urged Syria to be "more decisive" in implementing the ceasefire following talks in Moscow with his Syrian counterpart, Walid al-Muallem. However, Lavrov, whose country joined China in vetoing a UN security council motion in February targeting Syria, also called for greater international pressure for rebel groups to adhere to the peace plan.
Residents in Homs, the centre of the anti-Assad uprising, which has faced weeks of bombardment from government troops, said shelling was continuing, while people in Hama, reported hearing tanks still patrolling the streets. "Shelling woke me this morning at 8.30 and I can now hear one shell every 10 minutes or so," Waleed Fares, a resident of Homs told Reuters.
The London-based Syrian Observatory for Human Rights said most cities were relatively calm on Tuesday following significant bloodshed in recent days, but reported no clear sign of troop withdrawals.
Similarly, there were no reports of a ceasefire by the rebel Free Syrian Army, which has refused to stop fighting until it sees signs of a withdrawal by government forces.