http://news.antiwar.com/2012/04/06/us-bounty-rallies-pakistanis-behind-banned-charity-head/
Official Says Saeed Helping 'De-Radicalize' Militants
by Jason Ditz, April 06, 2012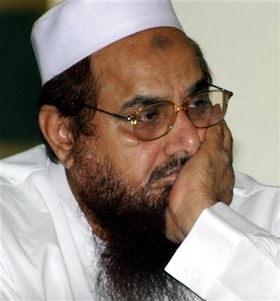 Since the bounty was announced, Pakistan's call for evidence and the US State Department admission that they don't have any were book-ended by two high profile public appearances by Saeed, surrounded by supporters and insisting he is willing to go to court at any time some evidence is actually found.
Though the US has regularly issued bounties on those it sought captured, Saeed is unique in that he was never in hiding, and the only reason Pakistan hasn't successfully jailed him is that no one seems to be able to come up with real evidence he did anything wrong.
The nature of the US bounty, as well as the admission that they don't have any evidence, has left Pakistan's government with no real option but to back Saeed, and has opposition figures hoping to jump to his side to gain some credibility as an opponent of arbitrary US demands.