http://www.reuters.com/article/2012/04/01/us-iraq-oil-kurdistan-idUSBRE8300CU20120401
(Reuters) - Iraq's autonomous Kurdistan region halted its oil exports on Sunday, accusing the central government in Baghdad of failing to make payments to companies working there in the latest clash in their long-running dispute over oil rights.
The disagreement heightens tensions in a broader dispute between Iraqi Arabs and ethnic Kurds over contested land, political autonomy and oil that has become a potential flashpoint for Iraq since the last U.S. troops left in December.
Baghdad says only the central government has the right to export oil, but the Kurdistan Regional Government says that it can control petroleum in its region, a disagreement that is disrupting payments to companies like Norway's DNO.
"After consultation with the producing companies, the ministry has reluctantly decided to halt exports until further notice," Kurdistan's Ministry of Natural Resources said in a statement.
"There have been no payments for 10 months nor any indication from the federal authorities that payments are forthcoming," it said.
Iraq's central government says exploration deals signed with Kurdistan are illegal.
Kurdistan says only two payments total ling $514 million have been received, with the last payment made in May 2011.
Baghdad has made payments to companies in Kurdistan in the past for exploration and extraction costs based on an interim agreement.
Officials from Iraq's oil ministry could not immediately be reached for comment. But Baghdad says it has already approved payment of $560 million to oil producers in the Kurdish region and is awaiting final audits.
The KRG said last week it had reduced oil exports to 50,000 barrels per day over the payment dispute. Iraq's government says it receives on average 70,000 to 75,000 bpd from Kurdistan, but says it only received 65,000 bpd since the start of the year.
Tensions between Baghdad and the Kurdish region have risen since October when Exxon Mobil announced a deal to explore for oil in Kurdistan. Baghdad warned the U.S. oil giant could risk its agreements with the central government.
OIL LAW DISPUTE
Iraqi lawmakers are still haggling over a national oil law that is meant to define who controls oilfields and revenues, creating a more solid legal framework for companies working in the OPEC nation.
But highlighting tensions over future investments, Iraq's central government has banned companies working in Kurdistan from participating in its 4th oil bidding round planned for this year for 12 new exploration blocks.
The dispute over payments also comes as Iraq's power-sharing government among Shi'ite, Sunni and Kurdish political blocs tries to end its worst political crisis since the government was formed just over a year ago.
Shi'ite Prime Minister Nuri al-Maliki in December sought the arrest of one of his Sunni vice presidents and asked lawmakers to sideline another of his Sunni deputies, in measures many Iraqi Sunnis believed aimed to shore up his power at their expense.
The Sunni vice president, Tareq al-Hashemi, fled to Kurdistan where officials are refusing Baghdad's request to hand him over to face terrorism charges, further fueling tensions between the two governments.
As much as a third of the oil extracted in northern Iraq is refined locally for domestic use, partly due to late payments from Baghdad for crude pumped into the major pipeline to
Turkey
and partly because it reduces the costs of producers.
Iraq has some of the world's largest oil reserves and Baghdad has signed multibillion-dollar contracts with global oil majors. But after Exxon agreed to its deals with Kurdistan, other oil majors, including France's Total, are considering deals with the northern region.
and....
http://www.aljazeera.com/news/middleeast/2012/04/20124113421503449.html
Fugitive Iraq vice president arrives in Qatar
Tareq al-Hashimi makes first "official" trip outside Iraqi Kurdistan since December when he fled there to avoid arrest.
Last Modified:

01 Apr 2012 14:38
Tareq al-Hashi
mi denies charges made by Baghdad that he ran death squads targeting Shia pilgrims [Reuters]
Iraqi Vice President Tariq al-Hashimi has arrived in Qatar on what the Gulf nation's state news agency called an "official visit.
The unexpected visit on Sunday marks Hashimi's first foreign trip since he fled to Iraq's semi autonomous Kurdish region to avoid an
arrest warrant issued
in December.
Hashimi is Iraq's highest-ranking Sunni official and is accused him of running death squads against Shia pilgrims.
Hashimi has denied the allegations. He publicly denounced the government charges as "politically motivated", accusing authorities of coercing his bodyguards to make false confessions against him.
Iraq's Interior Ministry last month demanded that Kurdish leaders arrest Hashimi before he could flee the country.
The semi-autonomous Kurdish region has its own security forces, which means Hashimi is effectively out of reach from police controlled by the central government in Baghdad.
Hashimi will stay in the Qatari capital Doha for several days, the Qatar News Agency said.
"Vice President of the Republic of Iraq Tariq al-Hashimi arrived here on Sunday on a several-day official visit to Qatar. He was welcomed upon arrival at Doha International Airport by HE Minister of State Sheikh Hamad bin Nasser bin Jassim Al Thani."said the Qatar News Agency.
Hashimi's office said he plans to meet with Qatar's emir and the prime minister during the visit.

"Vice President Tareq al-Hashimi left on Sunday morning heading to Doha in the brotherly state of Qatar in accordance with an invitation he received previously," the statement said.
He plans to visit additional, unnamed countries during the trip before returning to Iraq's Kurdish region, his office said.
"Legal violation"
While Iraq's political crisis has abated somewhat in recent weeks, Hashimi has remained in the Kurdish region, saying he cannot receive a fair trial in Baghdad.
They have said they will not turn Hashimi over to Baghdad for trial because the case has political implications that need to be resolved first.
"This is a legal violation, the airport authority in Arbil should face legal consequences since he (Hashimi) is forbidden from travelling," Ali al-Moussawi, a media advisor to Iraq's Prime Minister Nuri al-Maliki, told Reuters.
"The Iraqi law is one and it applies to all, including Kurdistan."
Earlier on Sunday, Maliki told a press conference that any country who is a member of the Arab League should not receive Hashimi but said it was up to international authorities to ask a state hosting the vice president to hand him over.
The Arab League summit was held in Iraq for the first time in 20 years last week.

http://news.antiwar.com/2012/03/30/us-wary-on-selling-iraqs-maliki-govt-advanced-weapons/
Pentagon Turns Down Requests for Top Missiles
by Jason Ditz, March 30, 2012
Iraqi military officials are reporting that efforts to buy advanced missile systems from the United States have been rebuffed, with the Pentagon reportedly refusing to approve them for anything but "last generation" technology.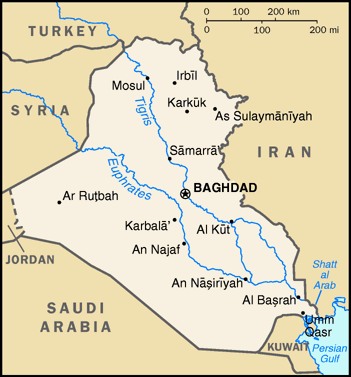 The
decision reflects a growing wariness among US officials to arm the Maliki government too well
, even at the cost of losing those big ticket sales for well connected US arms makers. Even the F16s the US agreed to sell to Iraq before the end of the occupation will be, it is assured, much flimsier than, for example, the F16s that the US is selling to the United Arab Emirates.
In practice the whole creation of an Iraqi Air Force, pushed by the US as vital to their pullout, seems needless, as Iraq doesn't seem likely to be in a war against any of its neighbors, and instead is fighting insurgent factions on the ground.