http://www.guardian.co.uk/business/2012/apr/02/eurozone-crisis-world-economy-firewall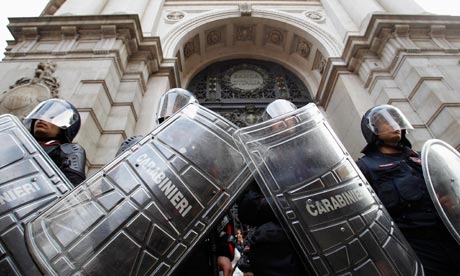 Another blow to the eurozone -- unemployment across the region has hit a new record high.
The unemployment rate across the eurozone jumped to 10.8% in February, the highest level in at least 14 years (data only goes back to October 1997). There are now an estimated 17.134m people out of work in the euro area.
The picture is little better in the wider European Union, where the jobless rate rose to 10.2% in February from 10.1% in January.
The youth unemployment rate was recorded at 21.6% in the eurozone, the same rate as in January, and 22.4% across the whole European Union.
As usual the unemployment rates showed stark differences between member states. The lowest unemployment rates were recorded in Austria (4.2%), the Netherlands (4.9%), Luxembourg (5.2%) and Germany (5.7%).
Spain remained the biggest unemployment blackspot, with a jobless rate of 23.6% (although new data for Greece was not available).
With all the European manufacturing data now in, it appears that only three countries performed well last month.
While Austria, Ireland and the UK all posted manufacturing growth last month, today's PMI data was bad news for several of Europe's larger economies. For Greece, the data showed that its economy continues to contract at an alarming rate.
Here's the highlights, and lowlights:
UK: 52.1 (an 8-month high)
Austria: 51.5 ( a 3-month low)
Ireland: 51.5 ( a 10-month high)
Netherlands: 49.6 (a 2-month low)
Germany: 48.4 (a 3-month low)
Italy: 47.9 (a 6-month high)
France: 46.7 (a 33-month low)
Spain: 44.5 (a 3-month low)
Greece: 41.3 (a 3-month high)
Howard Archer of IHS Global Insight agrees that today's manufacturing data indicates that the eurozone has fallen into recession.
Archer points out that only two countries -- Ireland and Austria -- posted manufacturing growth last month. The rest all contracted. He warned:
Furthermore, faster contraction in new orders and backlogs of work, bodes ill for manufacturing prospects at the start of the second quarter at least, while falling employment adds to concerns over the prospects for consumer spending.
The word from Italy is that today's unemployment data has been delayed -- by demonstrators at the Italian statistics agency. According to Dow Jones newswires, the protest is organised by employees at the agency....
Here's a graph showing eurozone manufacturing output over the last decade: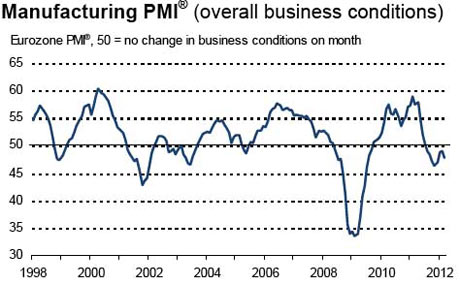 The 50-point mark on the y-axis seperates expansion from contraction.
It's official -- the Eurozone's manufacturing sector has suffered a poor March, with total output falling across the region.
The eurozone manufacturing purchasing managers index came in at 47.7, a three-month low, and the eighth month in row in which output has shrank.
That reinforces fears that the eurozone has fallen into recession.
As reported this morning, Spain and France's manufacturing sectors both suffered particularly badly last month. With Germany also shrinking, today's data shows that the eurozone crisis has now reached the core of the currency union.
Chris Williamson of Markit, who compiled the data, warned that the data indicates that the eurozone economy shrank in the first three months of 2012 -- putting it into recession. He explained:
Euro zone manufacturers suffered a miserable March.

Ongoing steep downturns in the periphery are now being accompanied by signs of renewed weakness in countries such as Germany and France.

Alarmingly bad manufacturing data from France was just released -- its PMI slumped to 46.7 in March, meaning the sector contracted after posting flat growth in February.
Germany's PMI was also recorded in negative territory, at 48.4.

Italy's manufacturing sector contracted again in March, for the 8th month in a row.
At 47.9, the Italian PMI (just released) was a slight improvement on February's 47.8, but still showed that the sector shrank again.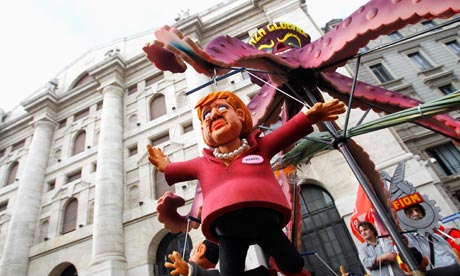 ...showing a puppet of Angela Merkel which was dangled outside the city's stock exchange.
Is a backlash building up against Mario Monti?
Over the weekend, protests took place in Milan against Italy's technocratic (unelected) prime minister and his programme of economic reforms, tax rises and spending cuts. The rally, organised by trade unions and left-wing political parties, marched to the Milan stock market carrying banners. One read "Technical government, but still a thief".
The demonstrators also carried puppets of several European leaders -- here's a photo of the Mario Monti version: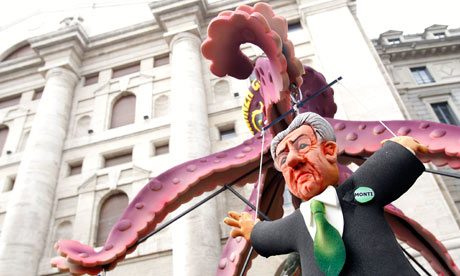 The Italian government has been making noises about the need to temper the austerity agenda. This morning, industry minister Corrado Passera told CNBC that Italy will lobby other EU leaders to agree new growth-boosting initiatives.
Passera explained that fiscal consolidation could not work without accompanying growth:
If we don't guarantee the medium-term sustainability through the right level of growth, we are [back] at the beginning of the problem.
Today's manufacturing data has dealt another blow to Spain. Its manufacting output shrank last month, at a faster rate than in February, underlining the parlous state of the Spanish economy.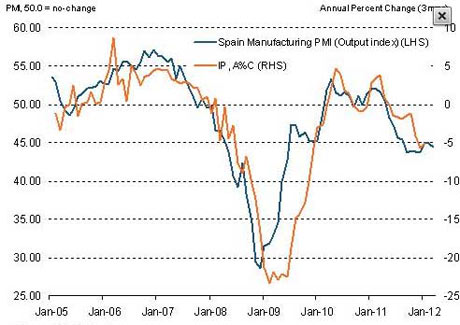 At 44.5, the Spanish PMI was its weakest since last December. As this graph shows, Spanish manufacturing has been shrinking (ie, a PMI below 50) since early last year.