http://fukushima-diary.com/2012/04/nitrogen-injection-stopped-and-tepco-started-backup-unit/
Nitrogen injection stopped and Tepco started backup unit
Nitrogen injection was stopped for reactor 1, 2, 3, 10:55 4/4/2012, a plant worker reported.
At 0:16 4/4/2012, backup unit was started, at 0:30, nitrogen injection was restarted.
The reason why it stopped is now known.
Tepco still needs to inject nitrogen to each reactor to control hydrogen concentration.
If nitrogen injection stops for 30 hours, hydrogen concentration goes up to 4%, which may cause hydrogen explosion.
In case of reactor1, 23m2/h is injected to container vessel, 15.3m2/h is injected to pressure vessel, at the moment of 5:00 4/4/2012.
Control units are separated for each reactor, it can be assumed that the shared nitrogen generator had a trouble for some reason.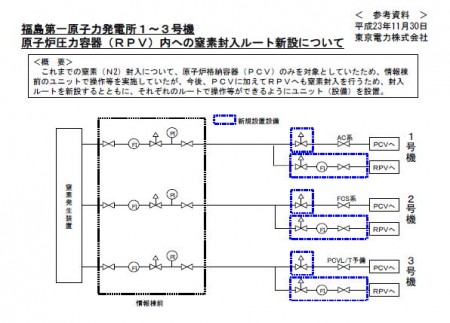 1~3号機の窒素封入一時停止=予備機起動で再開―福島第1原発
時事通信 4月4日(水)12時21分配信
東京電力福島第1原発事故で、東電は4日午前、1~3号機の格納容器と圧力容器に窒素を封入する装置が停止したと発表した。約1時間20分後に予備装置が起動し、封入を再開した。
窒素は水素爆発の原因となる容器内の水素濃度上昇を抑えるために封入されているが、危険とされる濃度4%に達するまで30時間かかるといい、同社は水素濃度の上昇はなかったとしている。
東電と経済産業省原子力安全・保安院によると、同日午前10時55分ごろ、1~3号機格納容器などへの窒素封入量がゼロを示しているのを作業員が発見。確認したところ、ポンプがいずれも止まっていた。約1時間20分後の午後0時16分に予備装置を起動し、同0時半に容器内への封入が再開した。
and.....
(UPDATE: TEPCO started the backup system at 12:30PM, and nitrogen injection has started. Still no word about why the system stopped in the first place. Since TEPCO is incurious, don't hold your breath for the answer.)
==================================
From
Jiji Tsushin
(4/4/2012, 12:24PM):
1~3号機の窒素封入装置停止=水素濃度抑制へ、復旧急ぐ-福島第1原発

Nitrogen injection system for Reactors 1, 2, 3 at Fukushima I Nuke Plant stopped, TEPCO trying to restore the system to keep the hydrogen concentration low.

東京電力福島第1原発事故で、東電は4日、1~3号機の格納容器に窒素を封入する装置が停止したと発表した。窒素は水素爆発の原因となる格納容器内の水素濃度を抑えるために封入されているが、東電は水素が危険な濃度になるまでは30時間かかるとしており、復旧を急いでいる。

TEPCO announced on April 4 that the system that injects nitrogen gas into the Containment Vessels of Reactors 1, 2 and 3 had stopped. Nitrogen is being injected into the Containment Vessels to suppress the rise of hydrogen gas concentration , which could cause hydrogen explosions. According to TEPCO,

it takes 30 hours before the hydrogen concentration reaches a dangerous level

. The company is currently trying to restore the system.

東電によると、同日午前11時前、窒素封入装置が止まっているのを作業員が見つけた。同社は装置の復旧作業を進めるとともに、原因を調べている。

According to TEPCO, before 11AM on April 4, a worker found the nitrogen injection system had stopped. The company is restoring the system, and trying to identify the cause.
and forget about cold shutdown being reached....
A reader writes in describing the contents:
Report to NISA on units 1 ~ 3 thermometer reliability
(the NISA requested Tepco to write a report once a month):

Some of the thermometers not previously evaluated were found to be usable, and some were found to be broken. Some thermometers that were not connected to a digital recorder have been connected to a digital recorder.

According to the plot on page 126

Unit 2′s TE-16-114L#2 RPV BELLOWS SEAL AREA, newly connected to a digital recorder (on 8 March 2012) reached 100°C on 19 March 2012. (but it is not marked as "broken").

TE-16-114L#1 is having a similar rising trend, reaching 83°C on 19 March 2012.
and ironically even when Tepco makes a sound decision , the japanese government comes around to try to force their hand - can't start more of the pesky rumors which of course are unfounded ....
Not even TEPCO is willing to accept radiation-contaminated wood chips, because of the concern for radioactive ashes from burning the chips.
My bigger question is:
Why are the lumber companies operating their mills at all in Fukushima, when they should know very well by now that the mountains and forests in Fukushima have been doused with radioactive materials?
Yomiuri Daily (English) has a more detailed story than
the Japanese version
.
From
Yomiuri Daily (English)
(4/4/2012; the segments in blue indicate the segments that exist only in the English version of the same news):
TEPCO declines wood chips as fuel for thermal power generation

Tokyo Electric Power Co. has declined requests of the timber industry to use wood chips from Fukushima Prefecture and surrounding areas as fuel for thermal power plants out of fears of cesium contamination, leaving local businesses stuck with about 25,000 tons of wood waste.

High levels of cesium were detected in part of wood chips after the crisis broke out at TEPCO's Fukushima No. 1 nuclear power plant. But the radiation level of the wood waste is below the safety standards now. Nonetheless, a huge amount of wood chips are sitting in Fukushima and Tochigi prefectures with no plans for removal.

A local timber industry group repeatedly asked TEPCO to accept the wood chips, but the utility has turned down the requests.

Worried that TEPCO's action could fuel harmful rumors, concerned government offices are planning to ask TEPCO to accept the request.

"If the situation remains unchanged, [timber] factory operations may have to be suspended, forcing some operators to close their businesses," said

Yoshiaki Munakata

, an executive of the Fukushima prefectural timber cooperative association, which governs about 200 timber and related companies.
The firms are struggling particularly over bark generated during lumber processing. Usually, one ton of bark is sold for about 1,000 yen and is usually used as compost or bedding for livestock.

However, an August survey conducted by the Forestry Agency after the March 11 disaster showed a maximum of about 2,700 becquerels per kilogram of radioactive cesium in some of the bark. Although a follow-up survey found the figures dropped to 200 to 300 becquerels per kilogram--below the government-set limit of 400 becquerels for compost. But only one-fourth of 4,000 tons of bark the prefecture generates each month has been sold or taken in by other entities.

According to the association, 20,000 tons of bark is currently sitting on timber company lots. The bark has been compressed and is piled four to five meters high. The association is worried the bark may combust after fermenting, association officials said.

Neighboring Tochigi Prefecture faces similar problems. As of March, a dozen companies in the prefecture had about 5,000 tons of bark.

The association came up with the idea of using the wood chips as fuel to generate thermal power.

Chugoku Electric Power Co. began power generation by burning coal and wood biomass such as bark simultaneously in 2005. Since then, other utilities have followed suit and TEPCO had also planned to start from this fiscal year.



The association said it asked TEPCO to take the wood chips

on four occasions between October and February

, but the requests were declined.



TEPCO initially told the association that using the wood chips to generate thermal power is technically difficult. But the utility later changed its rationale, saying such a measure is difficult to be taken at the moment because burying ash that contains radioactive cesium requires consent from local residents.





According to the Forestry Agency, the density of radioactive cesium in ash from burned bark is about 30 times higher than that of bark before incineration. But the radiation level for the bark ash is expected to be less than 8,000 becquerels per kilo-gram--an allowable level for landfill.





Officials of the Forestry Agency and the Natural Resources and Energy Agency view TEPCO's refusal as an act that goes against the purpose of the special law requiring the utility to cooperate in antiradiation measures.

The agencies therefore plan to ask TEPCO to take in the bark, the sources said.
Meanwhile, a TEPCO spokesperson said the refusal is due to concern over a stable power supply.

"If we don't have clear prospects for disposal of the [bark] ash, that would affect operations of our power stations," the spokesperson said.