http://news.antiwar.com/2012/04/03/22-killed-as-western-libyan-towns-continue-fighting/
NTC Forces 'Overpowered' in Attempt to Quell Violence
by Jason Ditz, April 03, 2012
The fighting kicked off yesterday
when forces from Ragdalein captured 34 members of the Zwara militia
, accusing the Berber-dominated town's forces of looting homes on the outskirts of town. Zwara responded by kidnapping 3 families of civilians from Ragdalein.
Today, the fighting is less about captives and more about shelling, as tanks and artillery from the two towns, just 10 km from each other, fire back and forth. The National Transitional Council (NTC) attempted to deploy police yesterday to secure a ceasefire.
This went poorly. The NTC Interior Ministry reports that the police were "overpowered" and that they are now sending diplomats to try to convince the two towns to knock it off. This is just the latest in a long line of local rivalries exploding into full scale violence, and increasingly the NTC is incapable of securing the peace.
and...
http://original.antiwar.com/updates/2012/04/03/more-sunni-arrests-reported-as-qatar-rejects-demands-to-return-hashemi/
More Sunni Arrests Reported As Qatar Rejects Demands To Return Hashemi
Tuesday: 8 Iraqis Killed, 3 Wounded
Reports are surfacing that an adviser to Parliament Speaker Osama Nujaifi has been arrested on terrorism charges. Ali Ahmed Abbas al-Dlemi is Nujaifi's adviser on legislative affairs. Nujaifi is the second most powerful Sunni, after fugitive Vice President Tareq al-Hashemi, in Iraq. Several guards may have also been arrested.
If the reports turn out to be accurate, the arrests will support complaints that Prime Minister Nouri al-Maliki's office is attempting to marginalize Sunnis in post-U.S. Iraq. Meanwhile, Qatar has rejected Iraqi demands that Hashemi be returned to Baghdad. They maintain that, so long as Hashemi has not been tried nor stripped of his title, they will not hand him over.
At least eight Iraqis were killed and three more were wounded in various attacks.
In Tikrit, a sticky bomb killed a television journalist as he was driving home from work. Kamiran Salaheddin is, so far, the second journalist killed in Iraq this year. Despite a drop in casualties since the height of sectarian violence, Iraq remains one of the deadliest countries for journalists.
A Yazidi man was shot dead while at his grocery store in Khitara. Security forces were able to safely remove two bombs the militants left behind.
http://news.antiwar.com/2012/04/03/tensions-with-pakistan-a-new-excuse-for-keeping-afghan-war-going/
US Offers $10 Million for Capture of Head of Banned Pakistani Charity
by Jason Ditz, April 03, 2012
The Obama Administration's strategy for the war in Afghanistan centers on a policy of securing an agreement with President Hamid Karzai to keep ground troops in the nation through 2024. At the same time, officials have to keep up the public pretense of an imminent drawdown.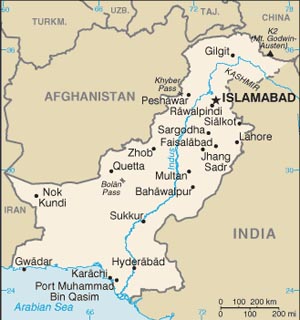 The excuses for the drawdown's delay have usually been that the war is going too well or too poorly to change troop levels. The excuse now, it seems, is "anti-American" sentiment of Pakistan is making the withdrawal inconvenient.
Pakistan has been keeping the border to Afghanistan closed since November in retaliation for a random (and still inexplicable) US attack on a pair of their military bases. The Pakistani government has made reopening the border conditional on the US apologizing and also stopping the drone strikes against the tribal areas.
There was a surprising well of political support for the United States in Pakistan, and it has taken over a decade for the Bush and Obama Administrations to successfully burn through it all. Now, the US is so politically untouchable that Pakistani MPs fear nothing so much as being branded an "ally" of the US.
Though this has been a public relations nightmare for US diplomats and no small source of destabilization in Pakistan, it gives the administration a fresh new excuse for why Afghan troop levels are staying flat, even though there was no indication before the border's closure that any US troops were going to leave the country by way of Pakistan and it seems a ridiculously unsafe route at any rate.
Saeed is currently the head of a banned charity in Pakistan, the Jamaat-ud Dawa (JuD). The group has run afoul of the Pakistani government as many other Islamist charities have, for being a successful foil to the government's mostly inept attempts at humanitarian efforts. The JuD's Islamist policies may make them an enemy to be targeted in the West, but the group's history of charitable effort, particularly in helping refugees from US and Pakistani military adventures, has made them a lot of friends.
Pakistan's government is unlikely to do much about Saeed either, having tried and failed to tie him to Mumbai and eventually being forced to abandon his house arrest over lack of evidence. The sudden US interest is likely to be one more reason Pakistani officials won't want to touch him.
and....
Taliban torch six NATO fuel tankers in southwest Afghanistan
An Afghan policeman walks past a burned out NATO fuel truck after being targeted by a bomb near Bagram air base, north of Kabul on October 26, 2011.
Tue Apr 3, 2012 8:43AM GMT
LAST UPDATE
The Taliban militants have set fire to a convoy of NATO tankers carrying fuel for US-led foreign forces in southwestern Afghanistan, Press TV reports.
Afghan officials said the militants destroyed at least six fuel tankers in an ambush in Dilaram district of Nimruz province late on Monday. This is while the Taliban spokesman Zabihullah Mujahid claimed that the militants destroyed nine tankers along with seven escorting vehicles.

Dilaram governor Abdul Karim Barahawi said at least four Taliban militants were killed in an airstrike fallowing the attack.

A similar ambush last week destroyed five NATO fuel tankers. Dozens of Taliban militants were gunned down in the ensuing clashes.

The increasing number of military casualties in Afghanistan has caused widespread anger in the US and other NATO member states, undermining public support for the Afghan war.

Insecurity continues to rise across Afghanistan despite the presence of tens of thousands of US-led troops.